Crafting a Company From Concept to Creation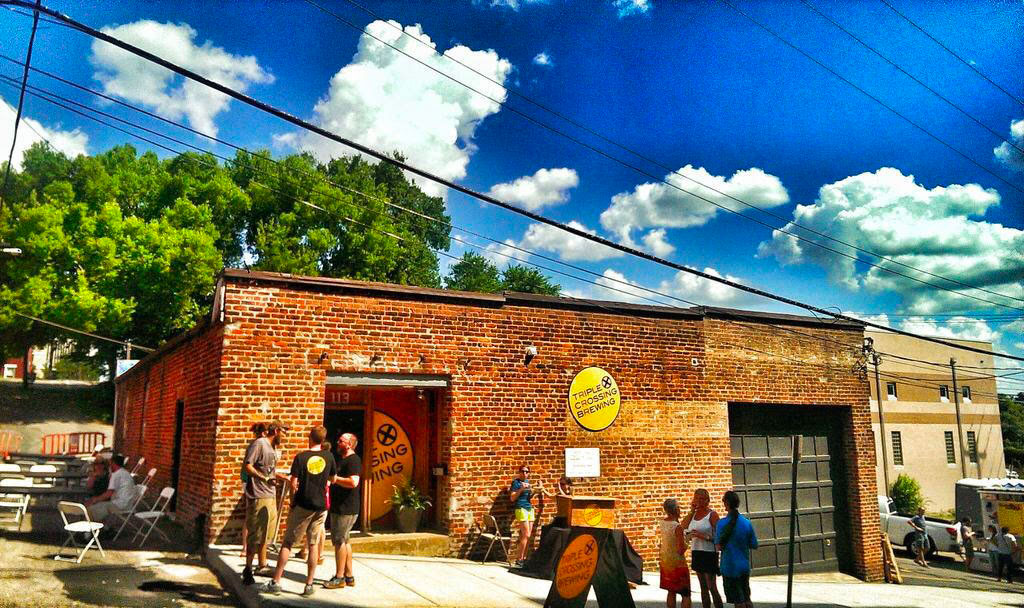 Venture Creation University
Venture Creation University is VCU's strategy for ensuring all students are exposed to innovation and entrepreneurship and have access to entrepreneurial pathways. To find out more about this effort, and to learn about innovation and entrepreneurial programs offered at VCU, visit: http://entrepreneurship.vcu.edu/
The concept for Adam Worcester's business came as so many other great ideas have throughout history — over a few cold beers with a couple of good friends.
He had taken up the hobby of brewing with his friend Jeremy Wirtes, but it was childhood chum Scott Jones that persuaded them to take it to the next level. "Jeremy and I used to brew together, and then we'd drink a bunch of beers and say, 'Let's open up a brewery!'" Worcester says. "We never really would have, but Scott had that drive to say, 'We really could do this, and we should do it.'"
That was around the time that Strangeways was opening and Hardywood was just a year old, and the three pals became determined to be a part of the burgeoning Richmond beer scene. About two years after the idea's conception, Triple Crossing Brewing opened its doors in downtown RVA.
The journey to that point included a stop here at VCU. After graduating from Virginia Tech in 2005 and working in a call center for two years, Worcester went to graduate school at VCU to earn his MBA. It was there that he honed his entrepreneurial mindset. "I took a lot of classes that had to do with entrepreneurship that I still use today," he says. "You get a different set of knowledge going back to school, especially after working in the real world because you know what sort of things to listen and look for. VCU did a really good job of intensifying those thoughts. It gave me the ability to look in further to some of the things that I didn't really pay attention to when I was an undergrad. The things I learned at VCU, like accounting and economics, have helped out majorly with this business. I went to those classes at Virginia Tech, but I didn't really understand because I didn't have any real-world work experience. The pairing of that with the grad program was really great for me."
And the things Worcester learned at VCU influenced the decision of Triple Crossing to throw its support behind its beloved IPA, Falcon Smash. "I understood the power of a brand," he says. "So, when we launched, we always focused on Falcon Smash being our flagship brand. We wanted people to associate Triple Crossing with Falcon Smash, and if they like it, they're going to want to try everything else we have at the brewery. We worked with a great designer, who we still work with today, and she helped us shape our brand identity. And we've focused on our core brands and what we're going to hit the market with to make sure people know that this is what we're all about. That understanding of how important it can be to not just put out any old beer that you want to brew makes a big difference in how people associate their experience with you."
Now is a particularly exciting time for Triple Crossing Brewing. They are currently working toward opening a new, larger second location in Fulton Hill – a 20-barrel production system in addition to the seven-barrel one they have now. When that opens in late October, they hope to have active taps in up to 100 bars around the city, start canning beers, and appear on shelves in local stores.
And Worcester says that Richmond is the perfect place to pursue this business. "I think it's awesome right now, especially with the arts, food, and beverage culture," he says. "We have a lot of friends in those industries, and it's a really great thing to see all of this happening in Richmond, which I have always seen as a cultural mecca. I think VCU is one of the big components of that view of the city."
So if you're looking for a successful example of the VCU entrepreneurial mindset, look no further than Triple Crossing. And stay tuned to Venture Creation University for all things entrepreneurial at VCU.