Company Founded by VCU Alumni Expands Operations to the West Coast
By Alan Rodriguez Espinoza
June 12, 2017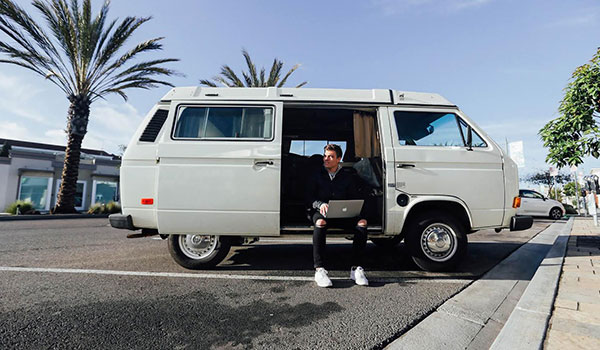 Growing up two hours away from the ocean in Richmond, VA, Cannella had to wait until high school, when he obtained his driver's license, to explore his interest in surfing. This interest soon transformed into a passion, but his passion for surfing was often deterred by a long two-hour drive.
For Cannella, this long distance from the shoreline meant being alienated from the rest of the surf community. Thus, Cannella did not have much access to the gear he needed to actively pursue his love of surfing.
His options were restricted. He could either drive two hours to the nearest surf shop, always uncertain of what he would find and whether the drive would be worth his time, or he could buy used boards online, which also had its limitations.
Venture Creation University
Venture Creation University is VCU's strategy for ensuring all students are exposed to innovation and entrepreneurship and have access to entrepreneurial pathways. To find out more about this effort, and to learn about innovation and entrepreneurial programs offered at VCU, visit: http://entrepreneurship.vcu.edu/
Craigslist in Richmond isn't very saturated with used boards, he says. It was always tough finding a used surfboard that was geared for my ability, in my price range and good for my area for the types of waves that we had.
Cannella's response to this problem was Boardgrab, an online marketplace where one can go and browse used surfboards from all over the place. He first came up with the idea of Boardgrab in the summer of 2015. Over the course of the next year, he turned this idea into a successful business.
Initially, Cannella was just a kid working on a company that [he] had a passion for. He considered being a rising entrepreneur a lonely process because he wasn't plugged in with the entrepreneurial environment in Richmond.
That doesn't mean that the support wasn't there, Cannella says. I just hadn't found it yet, and that's what VCU did. They helped me find it.
Cannella participated in Virginia Commonwealth University's pre-accelerator program in the spring of 2016.
Once I hopped into the pre-accelerator, he says. That's when I really started noticing all the resources that VCU had and everything that they were willing to do to help one of their students be more successful.
The Boardgrab website officially launched in the summer of 2016, the summer before Cannella graduated from VCU with his degree in entrepreneurship.
By the time I graduated, we had expanded down pretty much the entire east coast, he says. We had over 30 surf shop partners, a bunch of traffic coming to the site and we had sold about 600 used boards.
The company has only continued to grow since Cannella graduated last December. In February of 2017, Boardgrab took a two-week trip to California, where a large portion of the surfing market resides.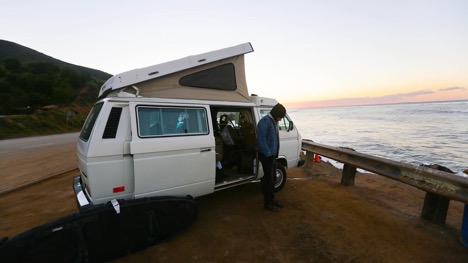 The main purpose was to expand our operations and our market to the west coast, he says. To do that, we had to partner with surf shops out there to get their boards on our site."
Cannella says the trip to California was very successful. Boardgrab partnered up with about 25 shops on the west coast, and they picked up a ton of boards. On top of that, he says the trip gained the company a lot new customers.
The whole trip was pretty much a marketing campaign, Cannella says. During the trip, we noticed an increase in [internet] traffic of about 150 to 200 percent.
During his tour of the west coast, Cannella was accompanied by Jon Angot, his business partner and a VCU creative advertising graduate. Their journey was documented by Nick Marfing, a long-time friend and the co-founder of the film company Altamira.
Boardgrab also recently teamed up with software developer Christian Bryant from Richmond. Bryant has been working on creating technologies that will help Boardgrab determine the true value and quality of their boards using software rather than just looking at pictures.
It'll be our way to give [surf shop owners] more knowledge when taking in these consigned boards, Cannella says. So that they have more opportunity to turn their inventories over rather than taking in boards that aren't gonna sell from the get-go.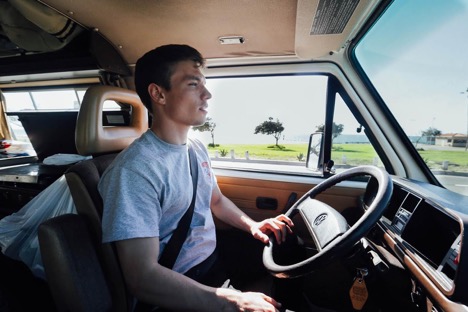 These technologies will use the data collected from boards previously sold on Boardgrab, as well as those sold by partner surf shops, to come up with an accurate price for boards being sold in the future.
The new technologies will also detect different defects on the boards automatically without us needing extra pictures. This will eradicate the problem of masking, where sellers hide dents and other damages done to their used boards when taking pictures in order to sell them for more than they're worth.
We're super excited, Cannella says. We're revolutionizing the way people are actually buying and selling these boards.
Boardgrab is also developing a tool that will allow independent sellers to sell their boards through Boardgrab, without the need to sell through a surf shop. They are currently testing this feature on their website under the name Tony's List.
It adds to the overall goal of Boardgrab, Cannella says. which is finding these boards and allowing these boards to be bought and sold more easily.
We're essentially like your board broker. We're gonna do everything we can to help get your board sold a lot faster.
This will make a huge difference for surfers who, like Cannella, live in an area where they don't have access to a surf shop. With tools like Tony's List, plus social media posts that get as many eyes on your board as possible, Boardgrab is truly fostering a sense of community nationwide.
The goal is that we get a pretty loyal customer base that likes to interact with each other, he says. We're trying to really bring the surf community together.