Chocolate Company Founded Through VCU Pre-Accelerator Finds Success in Richmond Area
By Alan Rodriguez Espinoza
July 6, 2017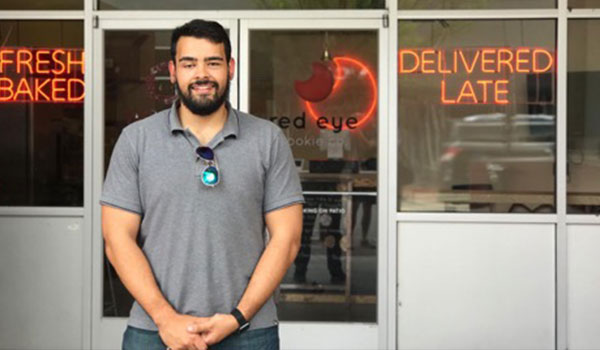 Alex Brito is a chocolatier with unlikely origins. The Richmond-based entrepreneur founded a web development company in 2011, and he graduated from the University of Mary Washington in 2014 with a bachelor's degree in computer science.
His friend and former business partner, Alex Burlingame, graduated from Virginia Commonwealth University in 2016 with a major in philosophy and a minor in business.
Despite the fact that neither of them had ever dabbled in chocolate-making, the two Alexanders entered the chocolate world in 2014 when they founded Upchurch Chocolate, a chocolate company that specializes in locally produced bean-to-bar chocolate bars made with the world's highest-quality cocoa beans.
Their interest in making chocolate first emerged when Brito and Burlingame were trying out a Mast Brothers chocolate bar from Ellwood Thompson's. The smoky cherry flavor of the bar was unexpected, and it completely changed their perception of chocolate at the time.
The two young entrepreneurs began experimenting with chocolate in Burlingame's kitchen in the fall of 2014, making terrible batches of chocolate in his apartment using made up equipment that [they] put together. After many late nights of trial and error, Brito and Burlingame perfected their recipe, and thus, Upchurch Chocolate was born.
Brito and Burlingame brought Upchurch Chocolate to VCU's pre-accelerator program the next year, in the summer of 2015. Burlingame says the pre-accelerator encouraged the two business owners to think bigger, and by the end of the program, Brito says they were profitable.
Venture Creation University
Venture Creation University is VCU's strategy for ensuring all students are exposed to innovation and entrepreneurship and have access to entrepreneurial pathways. To find out more about this effort, and to learn about innovation and entrepreneurial programs offered at VCU, visit: http://entrepreneurship.vcu.edu/
Upchurch Chocolate then entered the Lighthouse Labs accelerator lab in September. According to Brito, those three months of intensive mentorship were "pretty much VCU's program on steroids."
Around the same time that Upchurch was participating in the Lighthouse Labs accelerator, the chocolate company found a home. In August of 2015, Brayden Pleasants, the founder of Red Eye Cookie Co. and a friend and former coworker of Burlingame's, offered Upchurch to rent out a portion of the Red Eye kitchen in Richmond.
By the time the Lighthouse Labs accelerator had concluded, Upchurch Chocolate was working out of a professional kitchen and using professional equipment that was actually meant for making chocolate, and they had hired two full-time employees.
Despite the company's foreseeable success, Burlingame left Upchurch in the spring of 2016. Recently engaged and with an employment opportunity made available that would require him to move out of Richmond, Burlingame separated from Brito to focus on other life steps.
Today, Burlingame works for a campus ministry called InterVarsity. He says that through this work, his competing passions for the theoretical in philosophy and the pragmatism of business are no longer at odds, for campus ministry is in many ways a foot in both of those worlds.
As the sole owner of Upchurch, Brito continues to work out of the Red Eye Cookie building to this day, which he says feeds into the VCU community really well. The store's location has aided Upchurch Chocolate greatly in reaching some of their target audience, and it has put them in touch with the Richmond community at large.
I think Richmond just loves Richmond, Brito says. If you make a product that has excellent ingredients, is made with lots of love and is based out of Richmond, then it's hard to fail. The Richmond people just rally around it.
Indeed, Richmond businesses such as For the Love of Chocolate and Union Market have rallied around Brito's locally produced chocolate bars. James Kinard, the owner of For the Love of Chocolate in Carytown, explains why he has been selling Upchurch Chocolate bars from his store for over two years.
We try to promote local chocolate, Kinard says. We're not a chain. We're a local store. We're independent, so we kind of support each other.
Kinard says his store is a one stop shop for bean to bar brands from all around the world, which gives him the chance to promote [Upchurch Chocolate] as a local Richmond chocolate bar. This Richmond identity is something Brito does not take for granted.
Upchurch Chocolate plans on undergoing some serious rebranding in the near future, which will include some new packaging that will be a lot more playful. By including the RVA logo and a design from local Richmond designer Justin Tran, Brito wants this new packaging to emphasize the company's Richmond origins. He hopes Upchurch Chocolate can be a Richmond staple.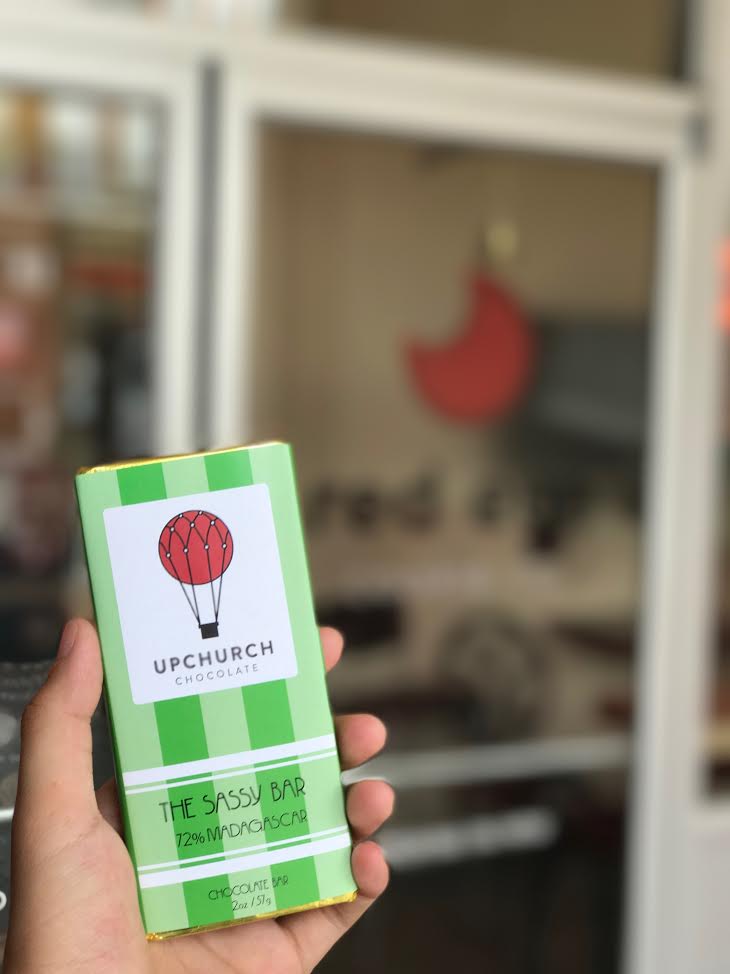 Alluding to the microbrewery and coffee scenes in Richmond, Brito says that chocolate just fits right in. Kinard seconds this sentiment, saying that beer, coffee and chocolate are all in the same vein and that bean-to-bar chocolate definitely has a niche market that is very strong in Richmond.
Just like with coffee, Brito says the complexities are all based on where the bean is grown. Likewise, Kinard compares bean-to-bar chocolate to wine in the sense that the origins of a product's main ingredient can make all the difference. This sense of raw authenticity is what makes bean-to-bar chocolate so sought after.
People like pure, unprocessed stuff, Kinard says. Bean-to-bar evokes that connotation and people can kind of do a tour of the world through chocolate.
This has proven to be the case with Upchurch chocolate bars. The bars currently on sale on the company's website contain cocoa beans from either Madagascar or Tanzania, and the company intends to incorporate beans from different origins from around the world throughout the next couple of years.
While a chocolate bar that is produced locally and has its roots in internationally derived raw ingredients surely sounds like enough to make for a successful product, Kinard points to yet another factor for Upchurch's prosperity.
Another thing about [Brito's] bars is the whole vegan, gluten-free, nut-free aspect that people are asking for more and more and more, he says. That really helps that he's come in at the right time.
As Upchurch Chocolate continues to grow and enjoy the support of the community, Brito is thankful for the support he's received from the local community. He says him and Burlingame couldn't have done it without James from For the Love of Chocolate, who he says took a big chance on [them] and has since been a mentor and a friend.
I'm glad to help, says Kinard. I knew people like Alex 25 years ago that now have huge chocolate companies.
To be honest, without the help of the people in Richmond, VCU, Lighthouse Labs, all of our mentors, there would have been no way. Brito says. Alex and I had no chocolate background. I'm a computer scientist, he was a philosophy major. There was no reason to be doing this except for just a passion of wanting to create the best product.