Ancient Medical Practice Provides Foundation for Student Skin Care Startup Norveda
By Alan Rodriguez Espinoza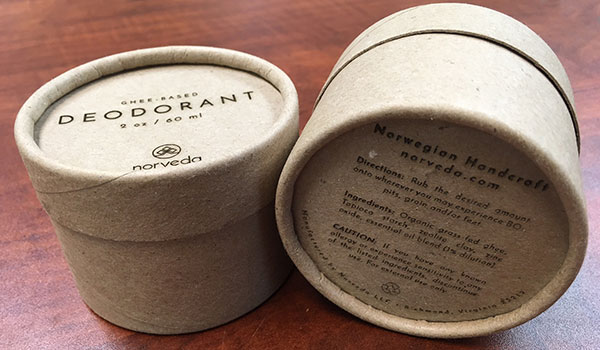 After spending a year in Virginia as an exchange student, Linn Oedegaard, 26, knew she wanted to study full time in the United States in 2011. Originally from Norway, Oedegaard graduated from Reynolds Community College with her associate's degree in the spring of 2013 and transferred to Virginia Commonwealth University.
Upon arriving to Richmond, Oedegaard's skin quickly began to break out. She says the breakouts were likely caused by a bad combination of stress, new foods and a new climate, among other factors. Seeing that acne creams and visits to the dermatologist were not fixing her problem, Oedegaard decided to take matters into her own hands.
I started reading into how to make my own skin care, she says. I was trying to heal my skin and I couldn't afford all the products at Ellwood Thompson and Whole Foods. They're a higher price because they're made from good sources.
Using such good sources and raw ingredients, Oedegaard eventually figured out a recipe that worked not only for her, but also for friends and family members that she shared her skin care remedies with. They suggested that these remedies could make for a good business.
After graduating from VCU's da Vinci Center with her bachelor's degree in product innovation in 2015, Oedegaard is now developing that skin care business as she completes the center's master's program.
Oedegaard's business, Norveda, is a company offering sustainable, minimalistic personal care products. Aside from skin care creams, the company will also be offering products such as deodorant, soap powder, and body and face lotions. Rather than creating long personal hygiene routines that require various steps and numerous expensive creams and serums, Norveda wants to focus on just the essentials.
Norveda's products are rooted in Ayurveda, an ancient medical system that originated from India. Oedegaard says when she experienced breakouts after she came to the United States, she found the solution in Ayurveda.
In the industry, there was no cure for me, she says as she elaborates on how the industry's dichotomy between oily and dry skin does not work for everyone.
In Ayurveda, it's not necessarily that. It gives a better explanation, and I want to use that explanation in guiding people towards better products that can actually help them.
Ayurveda emphasizes the interconnectedness of physical, mental and emotional health, and it encourages people to develop a lifestyle where the three can be balanced. This involves a skin care routine that just focuses on the essential and cuts down on a lot of the unnecessary, as well as a healthy diet and practicing meditation and mindfulness.
Down the line, Oedegaard says she would like to open a small shop where [she] can sell [her] products, and also offer classes on wellness, nutrition and overall health. These classes would serve as a way for her to maintain a direct connection with her customers and keep up with their progress.
The classes would also be a venue for her to raise awareness about the impacts that the beauty and personal hygiene industries have on the environment.
She says there's all this focus on natural and eco-friendly ingredients, but ironically, all personal care products use plastic. Instead of using microbeads and plastic packaging, Norveda will be using Norwegian plants and Norwegian-based ingredients, as well as compostable and recyclable containers.
Oedegaard wants Norveda to set an example. She envisions her company as one that will not only advocate for the environment, but also one that will mobilize their consumers to do the same. She says there is great power in us consumers to demand better options from the market.
Venture Creation University
Venture Creation University is VCU's strategy for ensuring all students are exposed to innovation and entrepreneurship and have access to entrepreneurial pathways. To find out more about this effort, and to learn about innovation and entrepreneurial programs offered at VCU, visit: http://entrepreneurship.vcu.edu/
Everything that's being produced is a result of what consumers demand, Oedegaard says. The more you educate consumers, the more they will start shifting their demand towards better alternatives.
She points to her Norwegian upbringing as a big drive behind her passion for caring for the environment. Being from Northern Europe, she says people in that area notice the effects of climate change much faster than those in other parts of the world.
Oedegaard's experience with the VCU da Vinci Center has been awesome. She says events such as Startup Spring Break and Demo Day have been very good for networking and for getting some insight and perspective from other people, and she feels that the center has equipped her with the skills she needs to get from where she is to where she wants to go.
Regardless, Oedegaard plans to move back to her hometown of Oslo, Norway once she's finished with her studies. I've been here for so long, she says. I feel like it's time to go back, at least for a year or two.
She wishes to expand her business in Norway once she goes back, where she believes there is a higher demand for natural hygiene products. However, she plans to keep her business active in the United States as well, and she would like to focus on making sure that her products are being produced and shipped locally both in America and in Europe in order to keep Norveda's ecological footprint as small as possible.
Oedegaard says it's really comes down to human health and the environment's health. Various people have already shown interest in and pre-ordered Norveda's products, and the company is planning on opening their website to the public in May of 2017.
My vision is to help people feel grounded, balanced and energized. Oedegaard says. That is the ultimate goal, and however I can do that, that would make me happy and that's what I want Norveda to be.
About VCU da Vinci Center
A collaboration of VCU's Schools of the Arts, Business, Engineering and College of Humanities and Sciences, the VCU da Vinci Center is a unique collegiate model that advances innovation and entrepreneurship through cross-disciplinary collaboration.