An Innovative Take on Boot Camp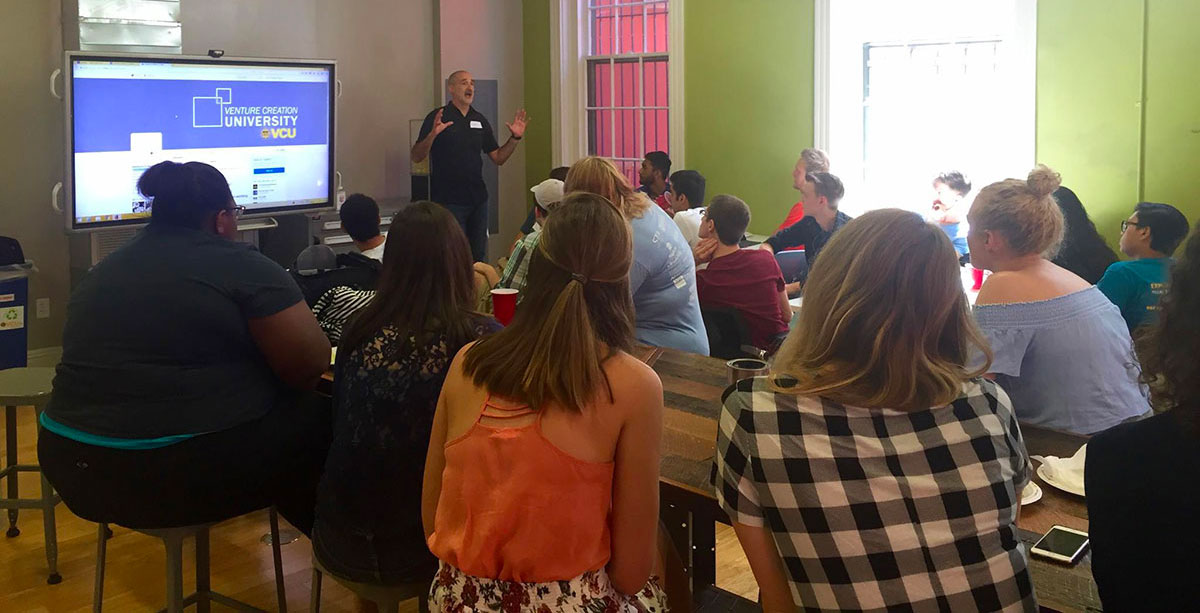 VCU Innovate Living-Learning Program, now in its second year, has an interesting way of breaking the ice.
Last Monday, members of two cohorts of the living-learning program of VCU's da Vinci Center got together in the morning to kick off a day of building new relationships, completing team-building puzzles, meeting local business owners, and becoming certified in laser cutting and 3D printing.
"Today is a boot camp, and it's the second one," said Somiah Lattimore, director of VCU Innovate. "Last year, we did it with the first cohort as a way to introduce them to one another. It was a way to build teams and comradery, and also to give them an introduction to what the next two years were going to be like for them because it was brand new."
Venture Creation University
Venture Creation University is VCU's strategy for ensuring all students are exposed to innovation and entrepreneurship and have access to entrepreneurial pathways. To find out more about this effort, and to learn about innovation and entrepreneurial programs offered at VCU, visit: http://entrepreneurship.vcu.edu/
VCU Innovate is a program where cohorts live and work together, while taking four one-credit extra courses over two years. "They're having a really immersive experience in the Richmond ecosystem and several other ecosystems that we've built relationships with," Lattimore said "And they're simultaneously going through whichever da Vinci track they're exploring"
Lattimore said this year's event saw the addition of some more educational elements aimed at preparing the students for the program. "We've tweaked some things as we've learned more about the students, the curriculum, the university, and the Richmond ecosystem," she said. "We are dividing them into two different cohorts and doing different things to prepare them to be successful throughout the year."
Of course, an event like this is about more than the skills students are picking up. Relationships are also key, as da Vinci Center professor Aaron Forrester pointed out during a lively lunch with the cohorts. "The thing that I think is cool about the first cohort is the community," he said "Today, when they saw each other, they were giving each other hugs and asking, 'How was your summer?' You don't always see that with classmates. Living together and doing these projects together, they have a mutual affinity for each other. So, we're hoping to build the same thing with the new group."
Indeed, the students appear to have a strong connection and a real passion for the program. "Today has been really cool," said Mimi Ampomah, a senior Information Systems major in her second year in the program. "I love seeing everybody, especially all the new faces."
Ampomah came upon the program almost by accident, as she and friend Nate Martinez were looking for a place to live. "We came in here, not knowing anything about it," Ampomah said. "But during the first class, when we had the workshop going, we realized this is really neat. Every time I tell people about this program, I just start rambling about all the cool things! I got an internship through here, I started a startup, I got cofounder status, and I'm absolutely in love with this program."
And it's that type of passion that these boot camps are meant to begin cultivating. "You're getting them together to say that there are going to be times that we do things together, and there are going to be things that are class-specific, but regardless, we're one big family," Lattimore said. "We all have resources that we can share among the group. If you need something, these types of activities will promote that trust."
For more information on VCU Innovate, check out the program's website, Facebook, and Twitter.
And follow Venture Creation University on Twitter and Facebook to stay up to date on all things entrepreneurial at VCU!