Graduate Students Enhance Physical Therapy With New Startup
By Alan Rodriguez Espinoza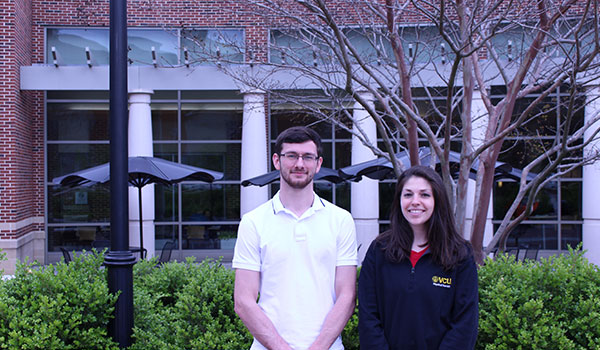 Steve Ebeling and Cassie Ford are two physical therapy students at Virginia Commonwealth University. The two met last summer, and they have come together to form TheraJournal, a smartphone app that will put to rest the antiquated model of home exercise programs and will welcome the field of physical therapy to the age of the smartphone.
Ebeling, 22, had always been interested in exercise science and kinesiology, but it was not until he was 18 that he realized his passion for physical therapy. Ebeling had been diving for 6 years and he was on his way to diving for the University of Delaware when he suffered from a stress fracture on his vertebrae.
The fracture was caused by the repeated forceful motion from when his body entered the water. It forced him to wear a back brace for his first two months of college.
In order to get better, Ebeling had to go to physical therapy. He credits the exercises from physical therapy as a really big part behind his recovery. However, the home exercise program he was given was not perfect.
Much to my dismay, he says. It was a sheet of paper with these diagrams of generic exercises and my physical therapist had to write notes on the side of each of them.
After graduating from the University of Delaware, he returned to his hometown of Richmond, Virginia to study physical therapy. Today, he is a graduate student at Virginia Commonwealth University alongside of Cassie Ford, his friend and business partner.
Ford, 29, graduated from the University of Pittsburgh in 2009 with a bachelor's degree in finance and marketing. In 2011, she began working at Gold's Gym as a personal trainer, often for clients that were injured.
As a trainer, you have a limited scope of what you can do with people with injuries, Ford says. you can exercise with them but you have to be really careful.
This inability to fully assist clients who were injured inspired Ford to explore the field of physical therapy. Like Ebeling, Ford soon realized the flaws within the current home exercise programs offered by therapists.
The therapist ends up spending extra time generating this homework program instead of spending that time working with the patient, she says. You can use that time literally any other way and it would be better than spending it with this really slow, sub-par, not effective exercise program.
With help from VCU's pre-accelerator program, Ford and Ebeling are developing TheraJournal. With TheraJournal, Ford says that creating home exercise programs will be as quick and simple as click, click, click, done.
TheraJournal will allow a physical therapist to use their phone cameras to record video clips of their patients' exercise programs in the middle of their therapy session. The therapist will then be able share these videos with their patients, who will be able to access the videos from their phones.
We're trying to make it easier for the patient to know what to do, Ford says. And also more efficient for these exercise programs to be generated.
Venture Creation University
Venture Creation University is VCU's strategy for ensuring all students are exposed to innovation and entrepreneurship and have access to entrepreneurial pathways. To find out more about this effort, and to learn about innovation and entrepreneurial programs offered at VCU, visit: http://entrepreneurship.vcu.edu/
After TheraJournal is past the development stage, Ford and Ebeling will demo the app at local clinics and look for feedback from real patients and physical therapists to make sure that the product is fully meeting their needs.
You don't want to launch a product that is your vision of what everyone else needs, Ebeling says. You want to work with people that are telling you what they need, and then build that.
Ebeling emphasizes the fact that TheraJournal must be for physical therapists, by physical therapists.
Additionally, Ford and Ebeling have made clients' privacy a top priority so that the connection is always just between [the patient] and their healthcare provider exclusively and so that nobody else could gain access to the videos.
Aside from the three computer science interns provided by the pre-accelerator program, Ford and Ebeling say the TheraJournal app could not have been made possible without the help of Kyle Van de Kamp, an old high school friend who they describe as essential to the development of TheraJournal.
The click through app is almost entirely his work, Ebeling says. He was the person that put it all together visually.
The two also give credit to Josh Simmons, a fellow physical therapy student, for putting together the company's logo.
Ford and Ebeling expect to make free trials of the TheraJournal app available to local clinics around January of 2018. They would like for the app to be fully launched in the summer of that same year.
The two students express their gratitude for the support Nicole Monk, one of the pre-accelerator program's coordinators. They say she believed in [them] when [they] didn't believe in [themselves].
What's cool about Nicky is that her background is in healthcare, Ford says. So that's been really awesome because she's gone through this already.
Ford says the two would literally still be at square one if [they] had not been in the pre-accelerator program. It has forced them to dedicate their time to their start up, with Ebeling saying that he has never worked this hard in [his] life.
They saw the vision and helped bring it to life, Ebeling says. You can really tell that VCU wants to grow these ideas and just watch them take off.
About VCU Pre-Accelerator
VCU's Pre-Accelerator Program provides students with promising business ideas a $5,000 stipend from VCU's Quest for Innovation Fund, as well as access to a three-month experience that guides them through the challenging early stages of launching a company. The programs first three cohorts included 22 teams that have collectively raised $1.5 million in revenue, investments and grants, and created 31 full- and part-time jobs.