An Entrepreneurial Mentor's Journey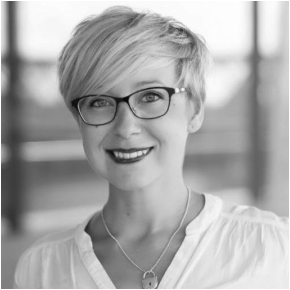 We recently introduced you to Jay Markiewicz and told you of his circuitous route to entrepreneurship. Anika Horn has become a mentor to many of Richmond and VCU's budding entrepreneurs, and her journey has been a similarly winding path.
Born and raised in East Germany, she found herself travelling after high school, visiting most of Europe and much of Asia, volunteering, working on farms, and even spending a stint employed at Disneyland.
After going back for undergraduate studies in Germany and France, she began to find inspiration in those whirlwind days of her pre-college travels and experiences.
Venture Creation University
Venture Creation University is VCU's strategy for ensuring all students are exposed to innovation and entrepreneurship and have access to entrepreneurial pathways. To find out more about this effort, and to learn about innovation and entrepreneurial programs offered at VCU, visit: http://entrepreneurship.vcu.edu/
"There was this inkling I had since I volunteered in Thailand that we can use businesses for good, and really use it as a lever to create positive social change," Horn says. "That really clicked for me. So I went back to school and got my masters of science in sustainability in Hamburg and Australia. After I finished that up, I just started working in social enterprise and mentoring social entrepreneurs, working with them and helping them figure out their business models."
She soon met a man who invited her to come with him to America. "After about a year and a half, we realized that if we want to be together, we should see if we could spend more than a week together at a time. I quit my job, left my apartment, and came over here to test it out to see if I liked Richmond, and I liked it a lot."
One of the first people she met in her new adopted home was Larkin Garbee of coworking space 804RVA. "I walked into this space and said, 'I'm Anika. I work with startups. Who do I need to know around here?' And she said, 'Me! This is perfect. We have a pre-accelerator going on and you should come on as a mentor.' It's been going since then!"
She now works hand-in-hand with 804RVA, Impact Makers, Lighthouse Labs, and our own Pre-Accelerator program – all while continuing her research into social entrepreneurship. Along the way, she's keenly developed her own entrepreneurial mindset, and is using that skill to spot and encourage it in others.
"First of all, I don't think that the entrepreneurial spirit is genetic," she says. "I think it's something that anyone can take up and learn. People can learn to be an entrepreneur. When I think of the entrepreneurial spirit, I think of people who can get very excited about something and will do anything to try it out and move it forward. They are relentless in the pursuit of doing things, and doing crazy things, like walking door to door and telling people – whether they want to hear it or not – about their new product. They are really people who are just doers and who aren't intimidated by roadblocks along the way."
She's also found something that is intrinsically Richmond – the desire to help others. "What you will find in Richmond is that a lot of founders have this intrinsic motivation to do good and to do business in a responsible way," she says. "So it's not that big of a step to talk about social entrepreneurship because it seems to be part of the DNA of people here."
It's clear that the entrepreneurial landscape is filled with exciting potential here in Richmond, and Horn has high hopes for the scene. "I would like to see a network of different actors, investors, and programs that are set up so that entrepreneurs have a path and don't fall through gaps anymore," she says. "Really, a better-connected network of investors, support programs, mentors, resources. I think universities play a big role in that because I see them as being the birthplace of many of the entrepreneurial ideas coming out. And that's all with the goal of making Richmond the most founder-friendly community on the East Coast."
Whether through our own Pre-Accelerator or partnerships with the likes of Lighthouse Labs, our school and community are filled with opportunities to explore your own entrepreneurial mindset. Anika sees a great opportunity here in Richmond to be the most founder-friendly place on the East Coast, and she's anxious to offer her mentorship towards that goal. You may meet Anika at a Lighthouse Labs event or a startup networking shindig.
But as a friendly reminder, we offer mentors each Thursday in Founder's Corner during our weekly Pop-Up Pitch. Bring your idea, and we'll point you in the right direction.